A New Home for Karma Tekchen Zabsal Ling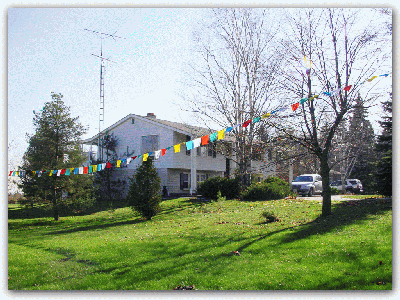 12971 Leslie Street, Richmond Hill, Ontario, Canada L4E 1A2
         In 2000, Lama Tashi went to India to pay homage to His Holiness the 17th Gyalwa Karmapa, Urgyen Thinley Dorje.  Lama consulted his holiness for directions in carrying on his dharma work in Canada.  Karmapa advised Lama Tashi that he should establish a centre in Toronto for the benefit of many more people.  In the spring of 2002, Karma Tekchen Zabsal Ling was founded.
         Having operated dharma activities out of the home of Mr. and Mrs. Ng for many years, not a day went by without students of Lama Tashi wishing to have a proper facility to do extended practice.  The search for a suitable place for a dharma centre started in the spring of 2003.  After months of searching and with blessings from the lineage, we found a property situated on a beautiful lot at the northern edge of the city of Richmond Hill in the Greater Toronto Area.  Lama Tashi, in constant telephone consultation with the Venerable Khenchen Thrangu Rinpoche, believes that he has found the place that will satisfactorily meet our requirements.  
         We are requesting you to participate in realizing our vision for the new home for Karma Tekchen Zabsal Ling.  We need funds immediately to renovate the property into a dharma centre for all of us.  The immediate plan is to convert an existing workshop adjacent to the main house to a retreat centre.  We want to have the centre ready by next summer for the visit by the Venerable Khenchen Thrangu Rinpoche and other masters who will come to officially open the Centre and to teach here.  
          We will renovate this new home to accommodate approximately 50 people to do group practice.   It will provide accommodations for visiting Masters who are giving teachings here.  It will be avaliable for students coming here to receive teachings from Lama Tashi, to stay for practice or to do retreat.  It will be a place that you have helped to build and helped dharma to flourish.   It is a place from where the torch of the Kagyu Lineage will be carried to reach countless sentient beings near and far.
           We are blessed to have and endorsing the building of a centre for KTZL.  Please join us in making aspirations and dedications to bring dharma to many sentient beings, just as the Buddhas and bodhisattvas before us left behind their teachings to lead us to enlightenment.
 

Please participate in creating the new home of Karma Tekchen Zabsal Ling by making a donation for the    following needs:

Loan repayment for the purchase of the home
Renovations to the buildings
Purchase of dharma items  for shrine rooms
Ongoing overhead and operating expenses

You may also help us by becoming a member of KTZL; by participating in our activities and by offering your services or skills to help us build our centre to better serve your needs.  To become a member, please print Membership form and mail to our office.

              To give your donation, please print our Donation form and mail your donations to our office.  Karma Tekchen Zabsal Ling is a registered not-for-profit organization.  Charitable donations to KTZL are tax-deductible.